About UsISO 9001:2008
certified
Vinod Snacks & Confectioners Private Limited
came into being in the year
1985
with a purpose to make India a recognized country in the World Food Map. By keeping the essence of naturalness and originality in flavors of Namkeens and Mixtures intact, we are giving required push to the Indian cuisine to make it likeable worldwide.
Working as a
manufacturer
, we are serving across the nation, tasty and delicious food snacks which are offered in hospitality to guests around the world. Under brand name '
Pooja
', we are serving customers a wide impressive line of
Moong Dal Namkeen, Dal Biji, Spl. Punjabi Mixture, Roasted Moong Dal Namkeen,
and much more. The name of our company is synonymous with quality because our food snacks are free from any sorts of impurities. They are highly safe and lip-smacking.
It wouldn't be wrong to call ourselves singular business entity that promises to supply authentic food snacks because in today's time, influence to earn money through food mixing and adulteration in companies is at high peak. We despise such practices because for us health of people matters most and serving them with quality is our aim.
Attainment of success in food snacks business opened gates of exploration for us and at present we are also into business of supplying Bakery Products such as
Bakery Cookies, Suji Toast (Rusk)
and much more.
Delhi is well-known for being the birth of reputed food companies which bring forth quality food items in markets. Belonging to the same capital city, our company is offering unique tasting delicacies to clients at affordable rates.
'Pooja Namkeens'
is renowned in marketplaces for being top-class in the seven letter word 'Quality'. Excellent Food technologies are used to hygienically process, food snacks in different varieties.
Quality "Pooja - a tradition of quality through technological excellence!"
In Indian ready-made snack food industry, we're a renowned name. Adoption of latest manufacturing techniques has helped us in making place in hearts of customers. In modern production unit, using advanced machinery such as grinding, sorting, frying, packing and mixing, production work is smoothly carried out by professionals. Quality-approved ingredients are used in making safe to consume food snacks which are delicious in taste. Metalized three layered pouches and other finest packaging materials are utilized for packaging purpose. These packaging materials increases shelf-life of offerings. At present, our food snacks are available in around 20 packaging. Each packaging product contains a bar code for easy accessibility and inventory control.
Below mentioned points describe how focused we are about serving singularly quality products:
The quality assurance unit of our business entity owns distinct testing facilities for bacteriological, chromatographic, colorimetric, chemical and physical analysis.
Quality of not singularly food snacks are examined but also of packaging materials
Quality standards of our products are in sync with Australian, FDA and New Zealand quality regulations.
Refined edible, ground-nut oils are used to make Namkeen
Big sized pulverize machines are utilized for the grinding of Spices and Pulses post drying methods.
All the above mentioned points have made us earn
ISO 9001: 2000
certification.
Plant
In our spacious plant, the frying procedure of products is done using excellent frying machines which are controlled by Programmable Logic Controllers (PLCs). The research and development team works hard and study about modifying traditional namkeen making recipes to serve customers, an authentic tasting food snacks.
Packaging
Packaging is another name of branding and marketing. We have been using this tool of packaging very effectively to increase our brand image. The packaging of Moong Dal Namkeenl, Rusk and Chatpat Stix is done using 3-ply laminates materials which enhances shelf-life, making them best for use till 6 months from manufacturing. Baby cartons and master cartons are used to facilitate sale of products in malls, groceries and departmental stores. Active packaging concept is adopted by us to enhance overall appeal of products.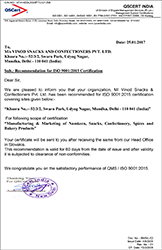 Read More